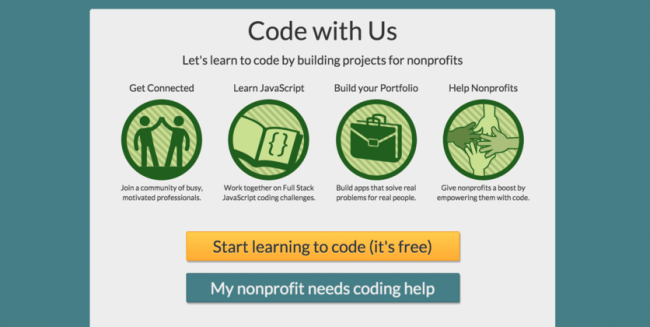 Knowing how to program for the Internet is a requirement that more and more companies have to tackle if they want to increase awareness of their projects on the Web. If we add to this the alternative and increasingly common practice of hiring programmers with previous experience, learning opportunities for complete coding novices are further reduced.
FreeCodeCamp
is the exact opposite of this.
This code-learning platform provides the opportunity to
learn programming concepts
that are later used to the benefit of non-profit organisations worldwide. It is interesting to note that, during the learning process, the user will create tools that NGOs can subsequently use. Furthermore, as the word "free" indicates, there is no cost to the user. However, the fact that the service is free does not mean that it is easy. Getting trained and obtaining the skills needed to create code in the real world, like everything else, takes time.
Many students and recent graduates take advantage of FreeCodeCamp to put their programming knowledge to the test, always voluntarily. Conveniently, the platform provides online tutorials that are available to the novice programmers to help them with their training. To begin with, new developers have to build a simple website.
FreeCodeCamp teaches
HTML5, CSS3, JavaScript, Git, Node.js, AngularJS, Agile and database skills
. These are just some of the options on offer. Thousands of professionals have already joined the community of volunteers to help dozens of NGOs to develop their online projects. FreeCodeCamp also has an
interactive chat
feature, which uses Gitter technology, where uses can ask questions and initiate discussions with other programmers.
The platform recommends completing 1,600 hours of training in order to obtain a job as a software engineer. However, it is true that, for NGOs, this is a cost that can be saved by working closely with organisations like
iWith.org
that specialise in programming. One of the attractions for many volunteers is the possibility of finding work as a programmer after completing their training. According to one of FreeCodeCamp's charts, by 2020, there will be 1 million more jobs available worldwide than students to fill them.
So, from the most basic skills such as the creation of HTML code for the website's structure or CSS code for its appearance, the user will progress to more complicated tasks such as learning the JavaScript programming language across all browsers or learning new algorithms. To get started with FreeCodeCamp, volunteers can click on the
following link
.