Collecting
donations
is one of the most frequents tasks for NGOs and not-for-profit organizations.
Facebook
knows this and because of this has launched a fundraising tool for not-for-profit organizations in Europe. This is due to the success achieved in the United States in helping the organizations which raised funds in the aftermath of Hurricane Harvey and which managed to collect 10 million dollars. In this regard, Facebook has enabled in 15 countries the option of adding a Donate button to the Facebook page of not-for-profit organizations.
By doing so, by the end of October NGOs can
sign up
and start using this tool to raise funds through the social network. Facebook offers three tools to collect donations: fundraising through the Donate button, collecting donations during a
live broadcast
on
Facebook Live
and empowering people who want to offer their support through Facebook fundraising.
The most important instance is the one in which live broadcast tool is envolved. People or pages that have been verified by Facebook can add the Donate button directly to their live broadcasts to raise funds for an NGO. Some of the organizations already involved in this new initiative are
Caritas Spain
,
Save the Children Spain
,
UNICEF France
and
Movember
.
This donation system has been launched in the United Kingdom, France, Spain, Ireland, Germany, Poland, Italy, Belgium, Holland, Sweden, Portugal, Denmark, Luxembourg, Austria and Finland.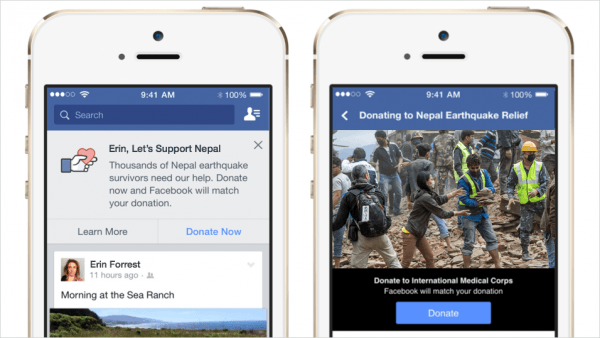 Fuente: Adweek